You'll join a nurturing community and receive exceptional support during your studies
We're here to help you with any of your learning support or pastoral needs and to answer any questions you have about the issues that affect you.
Student support officers are your first point of contact and offer a completely free, confidential and supportive service that is designed to fit in with your needs. You can ask us about anything from registering with local GP surgeries to how to plan and write essays or to request to speak to a counsellor. We offer a wide range of support to students with specific educational needs and/or disabilities.
We also provide academic skills sessions and special seminars based on your learning requirements, helping you to identify and achieve your study goals. You will also have a personal tutor who will provide you with academic advice and support.
As Norland students, you'll have free access to the digital support service Togetherall and the Headspace wellbeing app.
If you're an international student, you'll also benefit from a dedicated Visa Manager to provide specific support both before you arrive in the UK and during your time at Norland.
Follow @NorlandSupport on Twitter
Study skills sessions and wellbeing workshops
The Student Support team run monthly study skills drop-in sessions based on your learning requirements, helping you to identify and achieve your study goals. You will also have a personal tutor who will provide you with academic advice and support.
For those who need a friendly face or a listening ear, our weekly wellbeing workshops provide an opportunity to come and try new skills such as mindfulness or knitting, and to share your lunch break with like-minded people.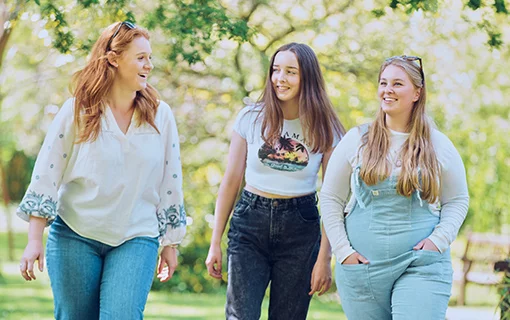 Here to Hear scheme
Norland's Here to Hear peer support programme provides another layer of support for students, with volunteers undertaking a comprehensive training curriculum to equip them with the tools to help others manage their struggles. We also have a Norland Buddy Scheme where we match current students with new students so that no one feels alone when they begin their university journey. However, if you feel you need extra emotional or psychological support, you can request to speak to one of our external counsellors.
If you would like to talk to us about the support we offer, please do get in touch and we will be happy to talk you through the options.
Read the H2H team's blog
Togetherall is an award-winning digital support service
Togetherall is free for Norland students and offers confidential online support 24 hours a day, 7 days a week to help you deal with everything from everyday stresses to major life events. It's a safe and anonymous online support and recovery space that you can go to if you're feeling down, stressed, struggling to cope, or just want to talk to people who understand what you're going through. It is moderated by trained professionals to ensure the safety and anonymity of all members.
Find out more about Togetherall
Headspace
We offer free membership to Headspace, an app which provides meditation and relaxation tools which are proven to reduce stress, and to improve focus, sleep, and mental health.
Meet our student support team
Alexia Jones - Student Services and Wellbeing Manager
Read full bio
Morag Thirlwall - Student Support Officer
Read full bio
Students share their Norland stories
"Norland was a fantastic place to study, and its support and guidance remains second to none."
Lily
Read full story
"Never have I been in an environment with more considerate, kind and loving people as at Norland".
Abi
Read full story
Register your interest in studying at Norland to stay connected
Sign up to our mailing list to receive the latest study news and information about our open days, funding opportunities and student life.