Our state-of-the art facilities include a simulated nursery and purpose-built cookery space
Most of your time at Norland will be spent at our multi-million-pound refurbished campus in Oldfield Park, with breathtaking views of Bath including the famed Royal Crescent.
The campus offers:
State-of-the-art lecture rooms with smart screen technology enabling our lecturers to deliver their teaching in innovative and engaging ways
A large conference room for guest lectures and practical sessions
A simulated nursery with direct access to the garden giving you space to learn all of the practical skills required to care for children using the latest equipment, as well as learning the traditional skills that Norland teaches
A dedicated library providing all of the resources you will need for your degree and diploma studies
Purpose-built kitchens where you will learn the Food and Nutrition element of your training
A large student common room with access to the patio and landscaped gardens
Face-to-face teaching is complemented by a virtual learning environment (Moodle) providing digital content and activities and supporting the submission of assessments and coursework. You'll also have access to an intranet (Dashboard) as a one-stop shop for everything connected to Norland life including your email, calendar and library account. We also offer iPads for your use as well as fibre optic broadband, printers and the library catalogue.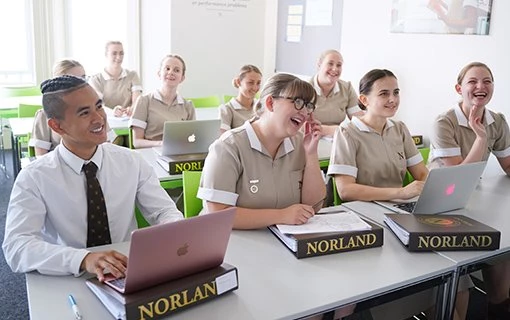 Study in state-of-the-art facilities
Take a 360 degree virtual tour of our campus
Our York Place building
Our building at York Place on Bath's London Road is a Grade II listed Georgian villa that was originally owned by the Duke of York (the son of King George III). It was previously used for Norland's teaching until our student numbers grew and we moved to our new teaching and learning facility at Oldfield Park.
Our Newly Qualified Nanny team, the Norland Agency, Continuous Professional Development (CPD) graduate training and our external consultancy team are based at York Place. You'll also attend occasional classes here. There are regular bus services that stop adjacent to the building.
Register your interest in studying at Norland to stay connected
Sign up to our mailing list to receive the latest study news and information about our open days, funding opportunities and student life.