Norland has been working with VistaJet, the first and only global private aviation company, providing training for its cabin crew on child development and behaviours and understanding family dynamics in order to provide the best possible travel experience.
VistaJet flies over 300,000 passengers on its fleet of over 70 silver and red aircraft to 187 countries, covering 96% of the world. Founded in 2004, VistaJet pioneered an innovative business model where customers have access to an entire fleet with as little as 24 hours' notice, whilst paying only for the hours they fly.
Norland has worked with VistaJet to provide training for its cabin crew to cover child development and child behaviours, including understanding family dynamics and recognising times of need for families when travelling. VistaJet is the first private aviation company to take these steps, meaning passengers can be safe in the knowledge that their families, when on-board, are in the company of crew that have received training from the world's leading early learning education and training provider.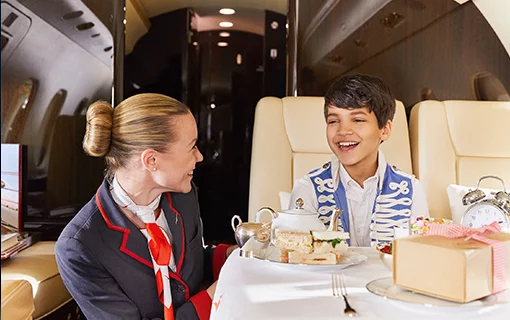 "Julia was very interesting to listen to and easy to communicate with. I felt very comfortable asking any questions I had."
Feedback from other participants on the training received:
"Julia, thank you very much! I do appreciate the course and the way you taught us
"Amazing teacher!"
"Interesting course, enjoyable and fun."
"Julia. Excellent instructor, very friendly and helpful."
"It was a very professional yet funny and great training. Thank you because I will now feel more comfortable having children on board."